Bangladesh Navy job Circular 2022 has been published on the official website joinnavy.navy.mil.bd and daily newspaper (Ittefaq, Bdpratidin) on 16 August 2022. Bangladesh Nou Bahini Job Circular 2022 has published the recruitment notification for the permanent vacant posts. Interested Men and Women both candidates can apply through online. Deadline of this application is 30 September 2022. You can also apply if you have interest and qualifications.
Questions
পদের নাম কী?
কতজন লোক নিয়োগ করা হবে?
শিক্ষাগত যোগ্যতা কী?
অন্যন্য যোগ্যতা কী?
বয়সসীমা কত?
আবেদন করতে কত টাকা লাগবে?
শেষ তারিখ কবে?
কিভাবে আবেদন করব?
পরীক্ষা কবে?
Job Summary of Bangladesh Navy Job Circular 2022
Name of the Organization
Bangladesh Navy (বাংলাদেশ নৌবাহিনী)
Type of Job
Defence Job
Vacancy
690
Category
Govt Job
Batch Number
2023B Officer Cadet

Job Nature
Full Time
Age limitation
16.5-21 years.
Requirements
SSC and HSC (See official circular for more)
Gender
Male and Female
Job Location
Bangladesh
Application Fee
700/- Taka

Apply Process
online application.
website: https://joinnavy.navy.mil.bd/
Last Date of Application
30 September 2022

Bangladesh Navy Full Job Circular 2022
All related and important information about Nevy job circular is available below:
SAILOR & MODC (NAVY) ADMISSION B-2022 BATCH
Qualifications for NAVY JOB CIRCULAR 2022
Educational Qualification
SSC and HSC Minimum GPA 4.50 in Science.
Physical Fitness Requirements (Minimum)
Height

:

Seaman: 167.5 centimeters or 5 feet 6 inches
Patrolman: 172.5 centimeters 5 feet 8 inches
Other Branches: 162.5 centimeters or 5 feet 4 inches
MODC (Naval): 167.5 centimeters or 5 feet 6 inches
Chest Size

:

Normal: 76 centimeters or 30 inches
Expansion: 81 centimeters or 32 inches
Explanation: 5 centimeters or 2 inches more than normal
Weight:
Weight will be calculated according to age and height for every candidates.
Eyesight:
Eyesight must be 6/6 (six out of six)
Other Qualifications
Nationality: Bangladeshi.
Sex: Male/ Female.
Swimming: Must know.
Marital Status: Unmarried.
Age Limitation: On 01 July 2023, the age of the candidate must be 16.5 to 21 years.
How to Apply Bangladesh Navy Job Circular 2022
Bangladesh Noubahini Job application full process are given below:
1. At first visit the official website of NAVY Job Application to – "joinnavy.navy.mil.bd".
2. In the next step press the "Apply Now" button (see image below).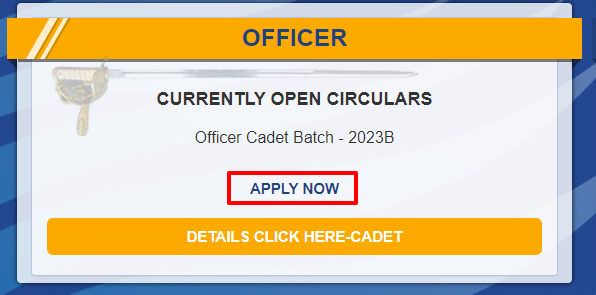 3. Now you will get a simple eligibility form, just fill in and press the "Check Eligibility" button (see image below).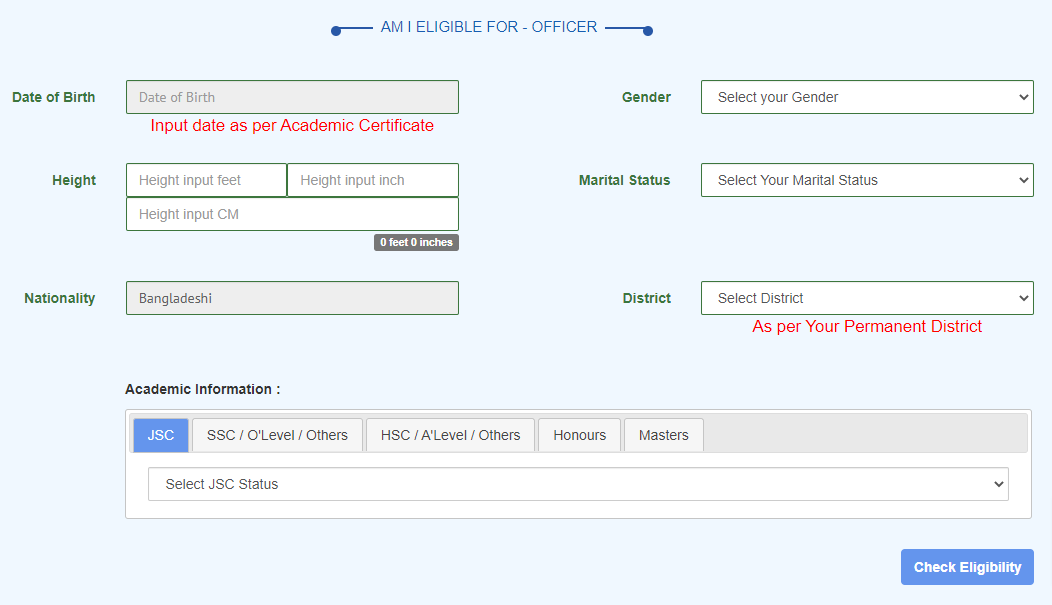 4. Then complete the rest of the application as per the instructions.
How to Pay in NAVY Job Application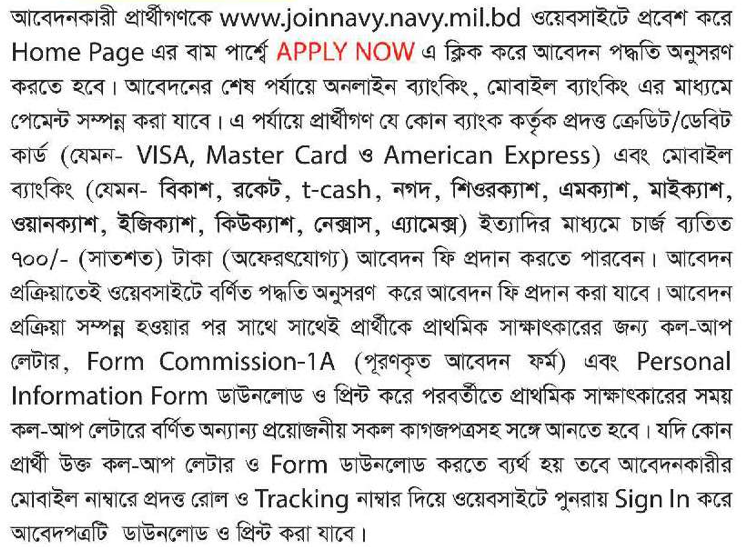 In different way the apply fee can be paid. Banking or Mobile Banking both method you can apply to pay the fee. In here Candidates can use Credit/Debit Card of any Bank (Visa, Master Card, American Express, Nexus) and Mobile Banking (Bkash, Nagad, Rocket, t-cash, Surecash, Mcash, Mycash, Onecash, Easycash etc.) to pay the fee.
The candidate has to deposit BDT 700/- for the application fee through banking (Visa, Master Card, Nexus) or mobile banking (bKash, Nagad, Rocket etc.). The application will not be completed until the application fee is paid.
Bangladesh Navy Admission/Examination Process
The Sailor or MODC exam will be in following 4 steps. The exam steps are-
Primary selection (1st step)
Written test (who pass the primary selection)
Final health check (who pass in written test)
And viva examination (who pass in the final health test).
After completing (passed) all test the candidates will get the appointment letter.
Documents Required for Admission/Examination
Educational Qualification:
SSC Certificate.
SSC Testimonials.
SSC Mark sheet.
Admit Card and Registration Card of SSC Examination.
In the case of 8th class pass candidates: Only the certificate and mark sheet required.
SSC pass candidates will have to submit attested photocopy and all documents. For more related information please check the official circular.
Other required documents:
Nationality and Character Certificate will be from Mayor or Chairman/Chairman of the Union Parishad/Ward Councilor.
National Identity/ Birth Certificate copy by attested with Mayor/chairman/1st class graduated officer.
Attested photocopy of National Identity Card or Birth Registration Certificate.
Parents permission copy by attasted.
15 copies of the candidate's own passport size color photograph, 01 copyfather's and 01 copy of the mother's photograph. Photographs must be attested by 1st class graduated officer.
Exam or Admission Center and dates of BD Navy Job Circular 2022
পরীক্ষা/ ভর্তির কেন্দ্র এবং সময়ে কিছু পরিবর্তন আনা হয়েছে। নিচে থেকে পরিবর্তীত তথ্যগুলো দেখার অনুরোধ রইল।
Below you can see your exam date and center name.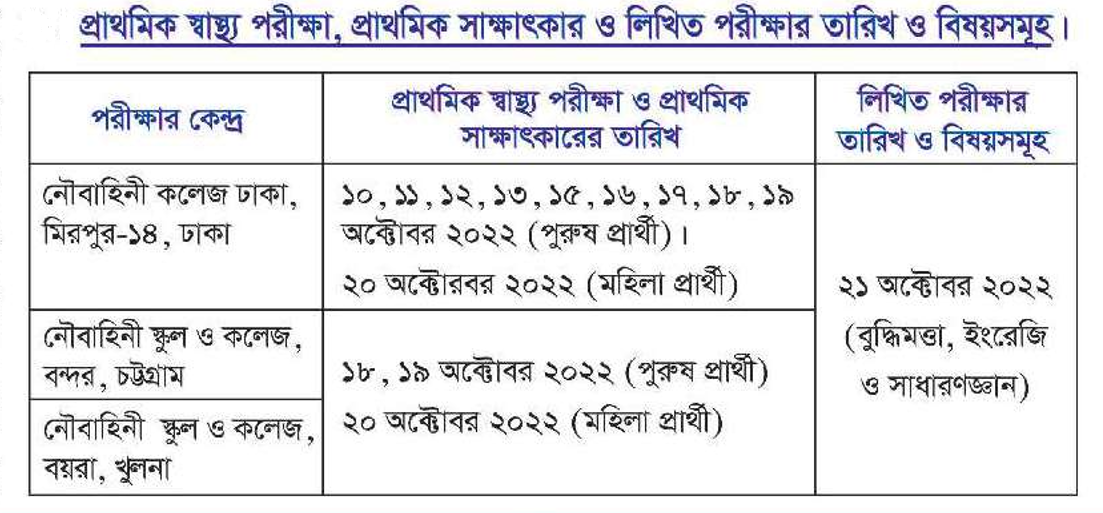 Bangladesh Navy (নৌবাহিনী) Job Circular 2022 PDF
Official Job Circular image and pdf source below:
নাবিক ও এমওডিসি (নৌ) ভর্তি এ-২০২৩ ব্যাচ নিয়োগ বিজ্ঞপ্তি ২০২২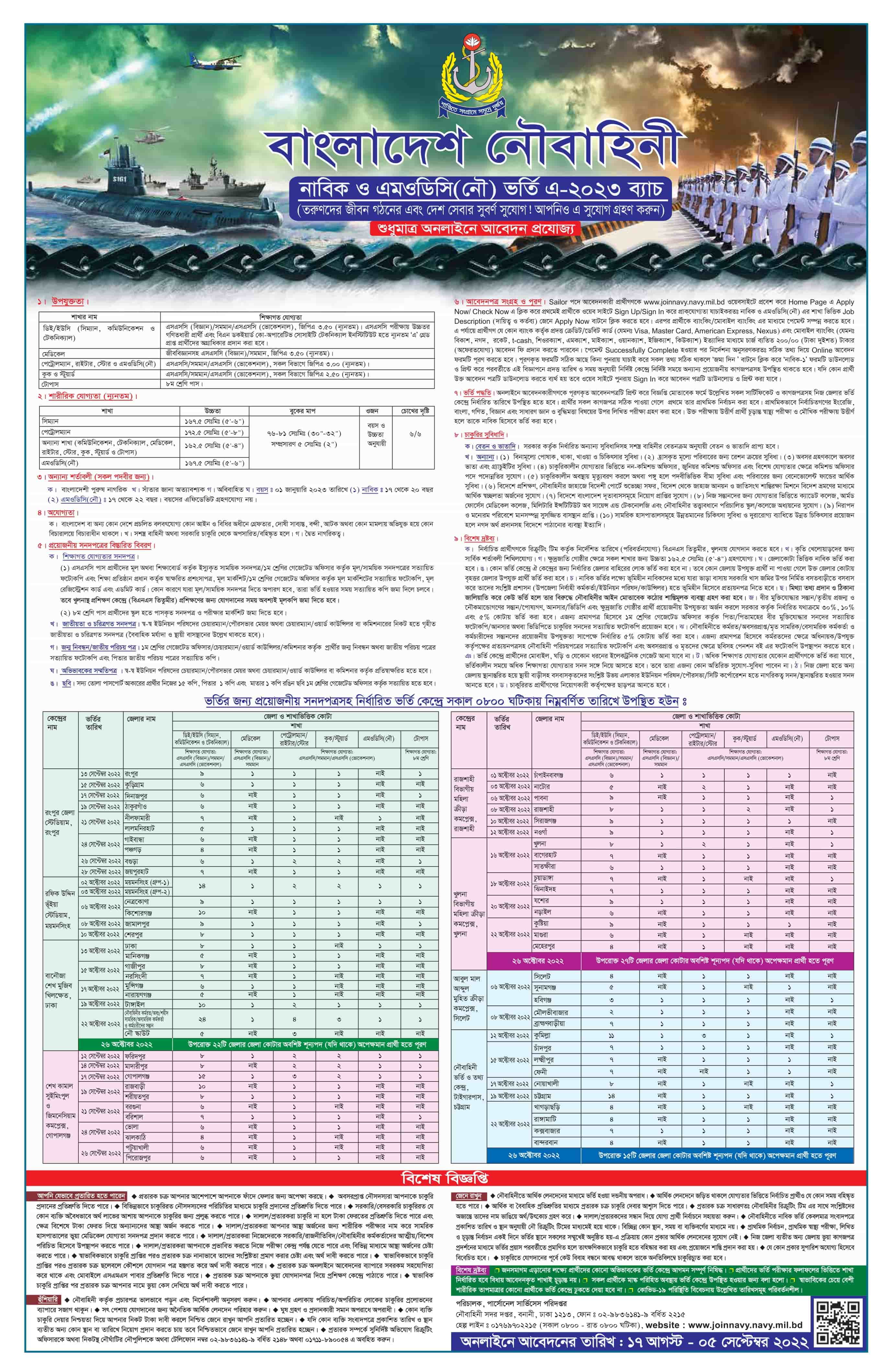 ২০২৩বি অফিসার ক্যাডেট ব্যাচ নিয়োগ বিজ্ঞপ্তি ২০২২