Finance Division, Ministry of Finance – MOF Job Circular had been published on Bangladesh different newspapers and official website (www.mof.gov.bd). The number of vacancies is 35 under 04 post. Men and Women both can apply if eligible from 27 October 2022 to 07 November 2022. Let's check more details about Ortho Montronaloy Niyog Biggopti 2022. বাংলা ভার্সন
অর্থ মন্ত্রণালয় নিয়োগ বিজ্ঞপ্তি ২০২২ বাংলায় দেখতে উপরে বাংলা ভার্সন এ ক্লিক করুন
You will get all the necessary information regarding recruitment notification (Job Circular). And to get regular scholarships/ stipend news / government job news / company job you can visit regular to our website- inbdjob.com
At a Glance of www.mof.gov.bd Govt Job Circular 2022
This Section is very important, because we try to include all important information in short. So read this part carefully. Check the Circular Summary is below:
Name of the Organization: Finance Division, Ministry of Finance (MOF)
Type of Job: Government Job
Vacancy: 35
Salary: Maximum 26,590/- Taka.
Job Tenure: Permanent;.
Job Nature: Full Time;
Age limitation: 18-30 years (Normal);
Qualification:

 Minimum Class SSC/ Equivalent

;
Gender: Men ‍and Women both can apply;
Eligible Districts: See in circular (below);
Application Fee : 112/- & 223/- Taka;

Official Website: 

www.mof.gov.bd
Apply Process: Online Method, from http://mof.teletalk.com.bd
Application Deadline: 27/10/2022 to 07/11/2022.
---
Check Other Job Circulars Below:
TSPCL Job Circular 2022
Bangladesh Computer Council Job Circular 2022
Biman Bangladesh Airlines Job Circular 2022
---
About Ministry of Finance
Ministry of Finance is a Ministry of the Government of the People's Republic of Bangladesh. This organization, which is one of the Bangladesh government, works to develop and implement the country's economic development, national budget, taxation, finance related laws, rules and regulations. Wikipedia
Details of Ortho Montronaloy Job Circular

Department of Finance; Against the recruitable vacancies in the revenue sector of the Ministry of Finance for the direct recruitment of manpower for the following permanent posts in the National Pay Scale, 2015 Grade 13, 16, and 20 from the genuine citizens of Bangladesh online (http://mof.teletalk.com.bd) On the website) applications are being invited. No application will be accepted except online.
Info Regarding Vacancies
Below are all the necessary information regarding the vacancies mentioned in the recruitment circular.
Post Name: Typist-cum-Computer Operator
Number of Posts: 3
Grade: 13
Salary: Rs.11000-26590
Qualification: Graduation/ Equivalent Degree.
Post Name: Office Assistant Cum-Computer Typist
Number of Posts: 6
Grade: 16
Salary: Rs.9300-22490
Qualification: Higher Secondary/Equivalent Degree.
Post Name: Data Entry/ Control Operator
Number of Posts: 2
Grade: 16
Salary: Rs.9300-22490
Qualification: Higher Secondary/Equivalent Degree.
Post Name: Office Assistant
Number of Posts: 3
Grade: 20
Salary: 8250-20010 Tk
Qualification: Secondary/ Equivalent Degree.
Note: The applicant should be between 18-30 years on 01/10/2022. And, in the case of children of freedom fighters and physically challenged, the maximum is 32 years.
Application Process of MOF (A to Z)
The application form has to be completed in 2 steps in the said recruitment notification. In order to apply, first you have to fill the application form online and collect the application form. After that you have to pay 112/- or 223/- through Teletalk prepaid mobile phone using the User ID mentioned in the application form.
Let's See the Process:
1st step: Online Apply;
2nd Step: Payment of Application Fees.
Online Apply (1st Step)
Let's first apply online.
At first type "http://mof.teletalk.com.bd" or click to Apply Online button.
Now Click to Application Form (Click here to apply Online);
Select post and click to next;
Chose "No" and click next again; (see below example)
| | | |
| --- | --- | --- |
| Are you a 'Premium Member' of Alljobs?* | : | Yes No |
Now Fill the application form correctly & click to Next;
Photo and Signature upload properly-
The photo 300×300 pixel, maximum size 100kb and JPG format.
Signature 300×80 pixel, maximum size 60kb and JPG format.
Now click to submit button, That's it.
All complete, now you should download this form and save/print color.
NB: You have to pay the prescribed charge through Teletalk prepaid mobile number within 72 hours after applying online.
Application Fee
Application charges can be paid only through 2 SMS from Teletalk Prepaid Mobile. Let's see-
1st SMS: Type "MOF" <space> "User Id" & Send to "16222";
Ex: MOF GOVTJOB (Send to 16222)
2nd SMS: Type again "MOF" <space> "YES" <space> "PIN" & send to "16222"
Ex: MOF YES 12345786 (Send to 16222)
এখানে USER ID হিসেবে ''GOVTJOB'' ধরা হয়েছে।
---
Check More
চলমান সকল সরকারি চাকরির নিয়োগ তালিকা
চলমান সকল এনজিও চাকরির খবর
---
Application Deadline
The application deadline for recruitment notification is as follows:
| Description | Dates | Times |
| --- | --- | --- |
| Date of Publications | 24 October 2022 | |
| Application Start | 27 October 2022 | 10.00 am |
| Last date of Application | 07 November 2022 | 05.00 am |
Application Deadline
Ortho Bivag, Ortho Montronaloy Official Job Circular
Recruitment 2022 must apply after seeing the official notification. The official notification is given below along with the PDF download link.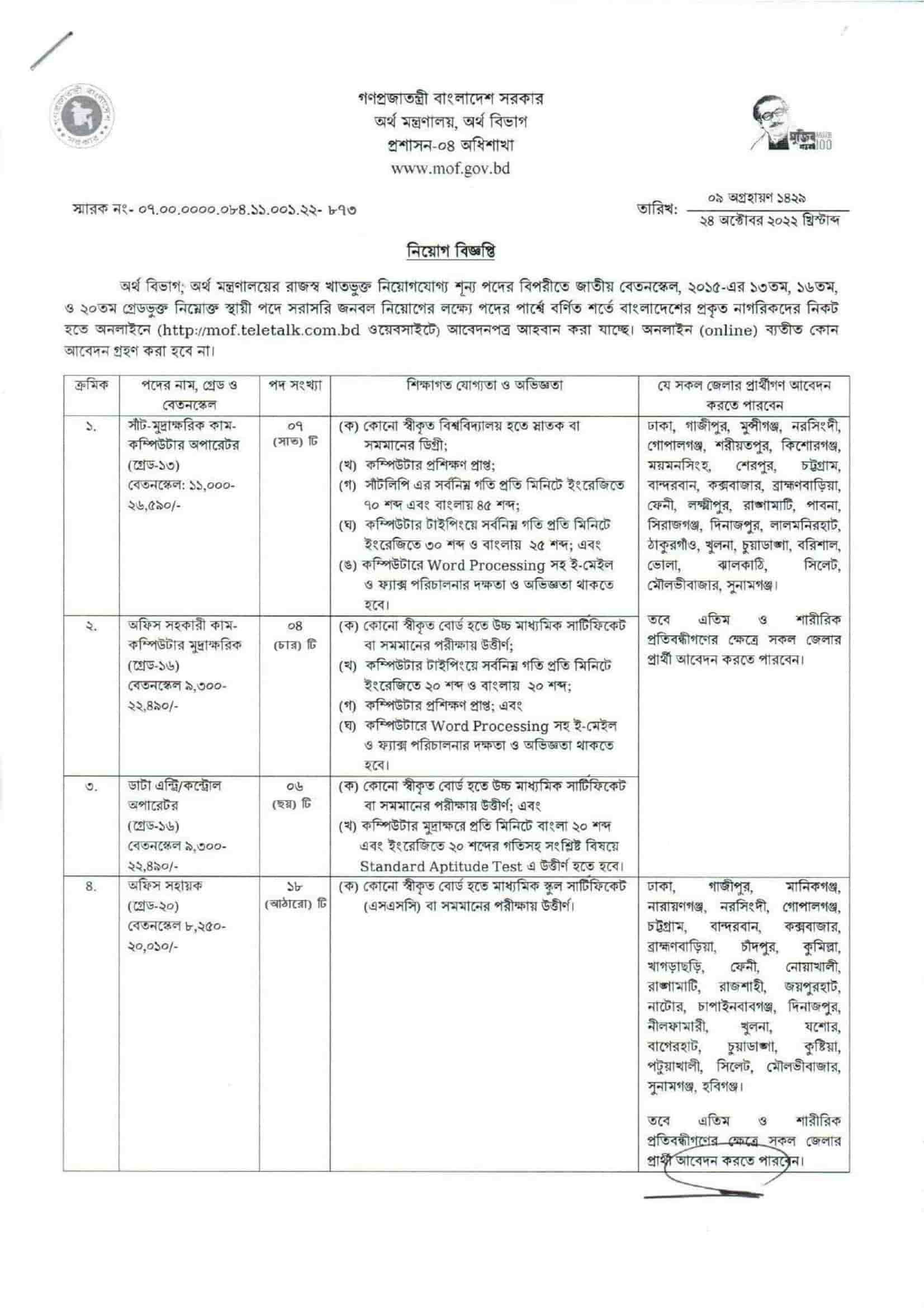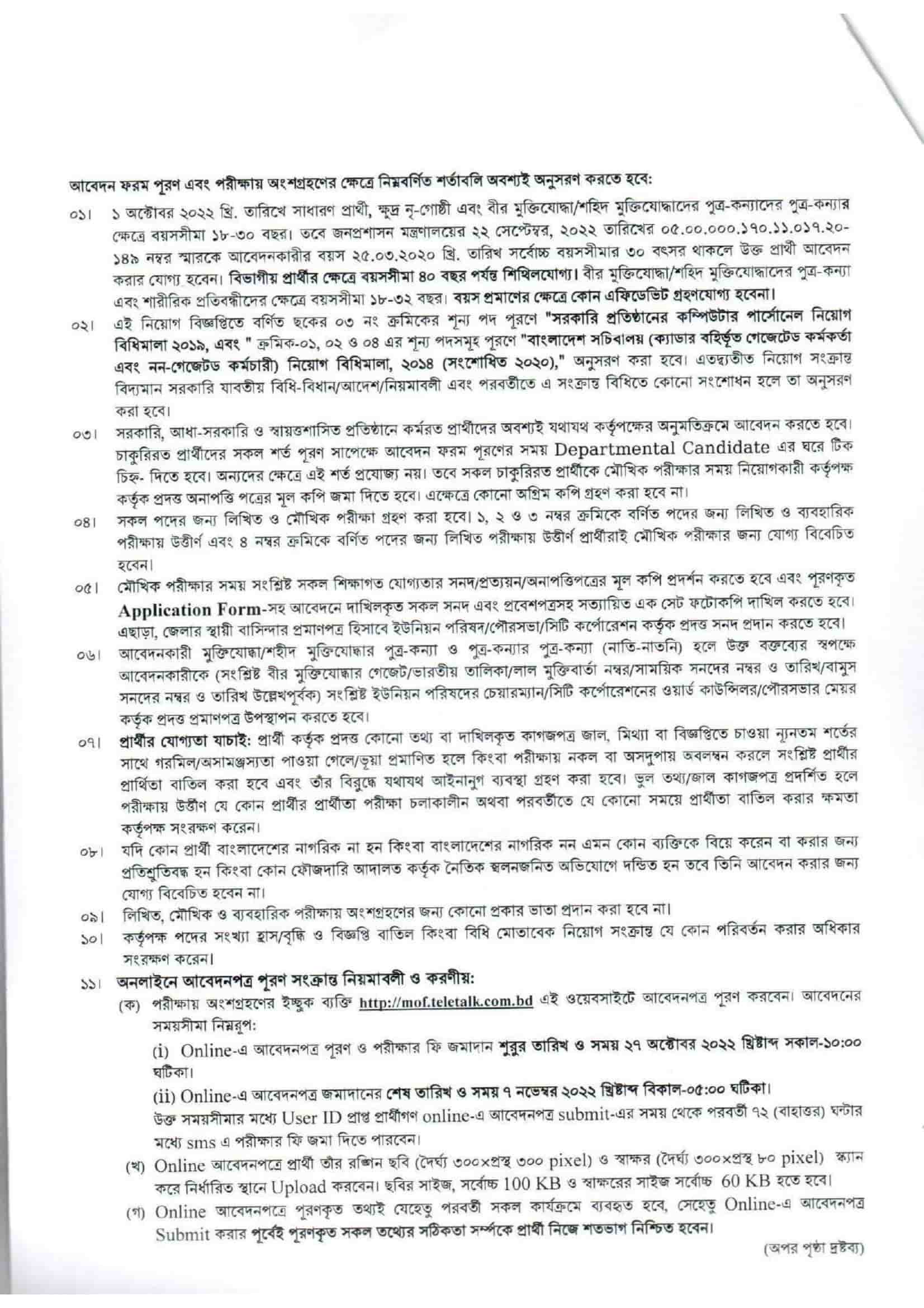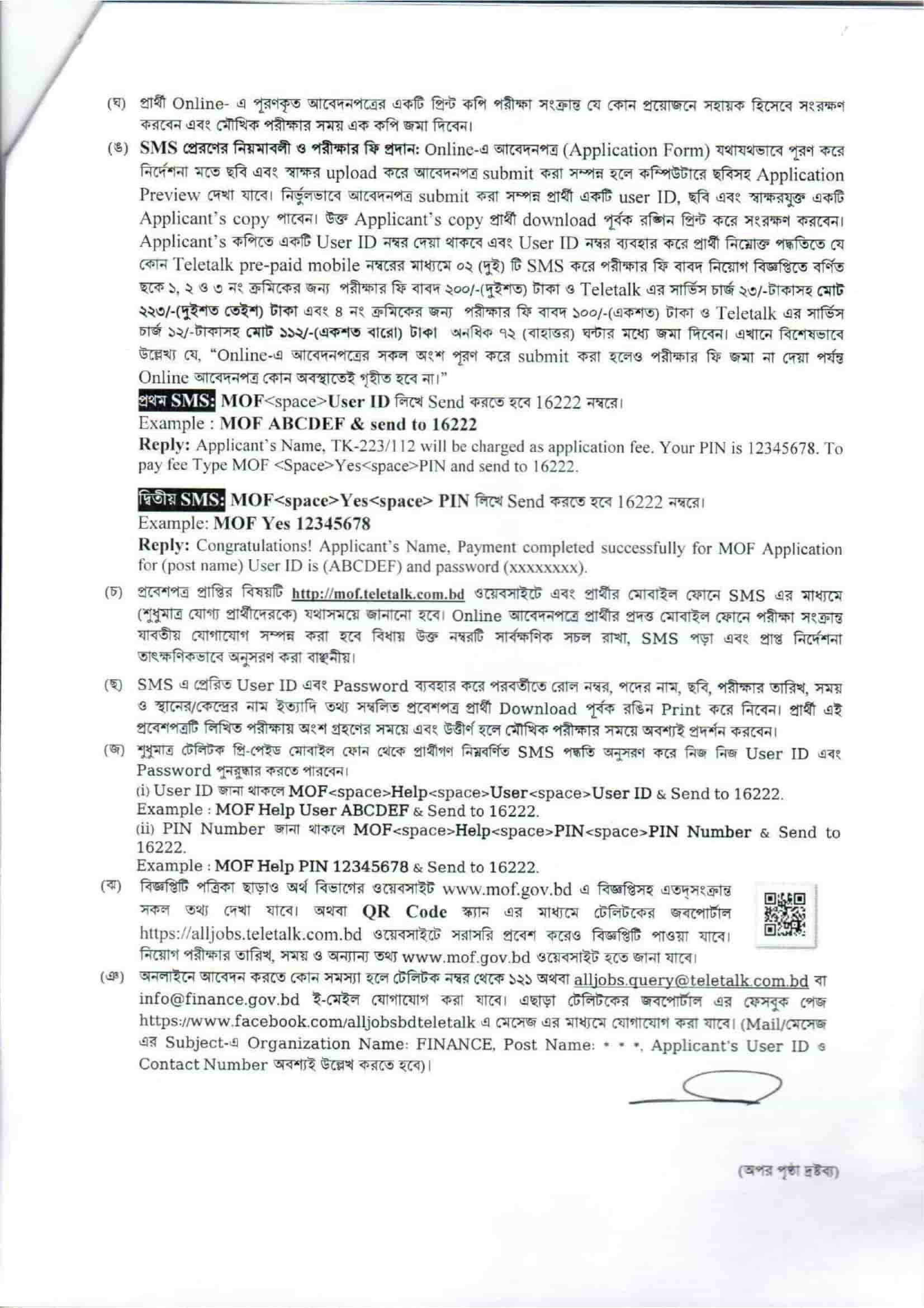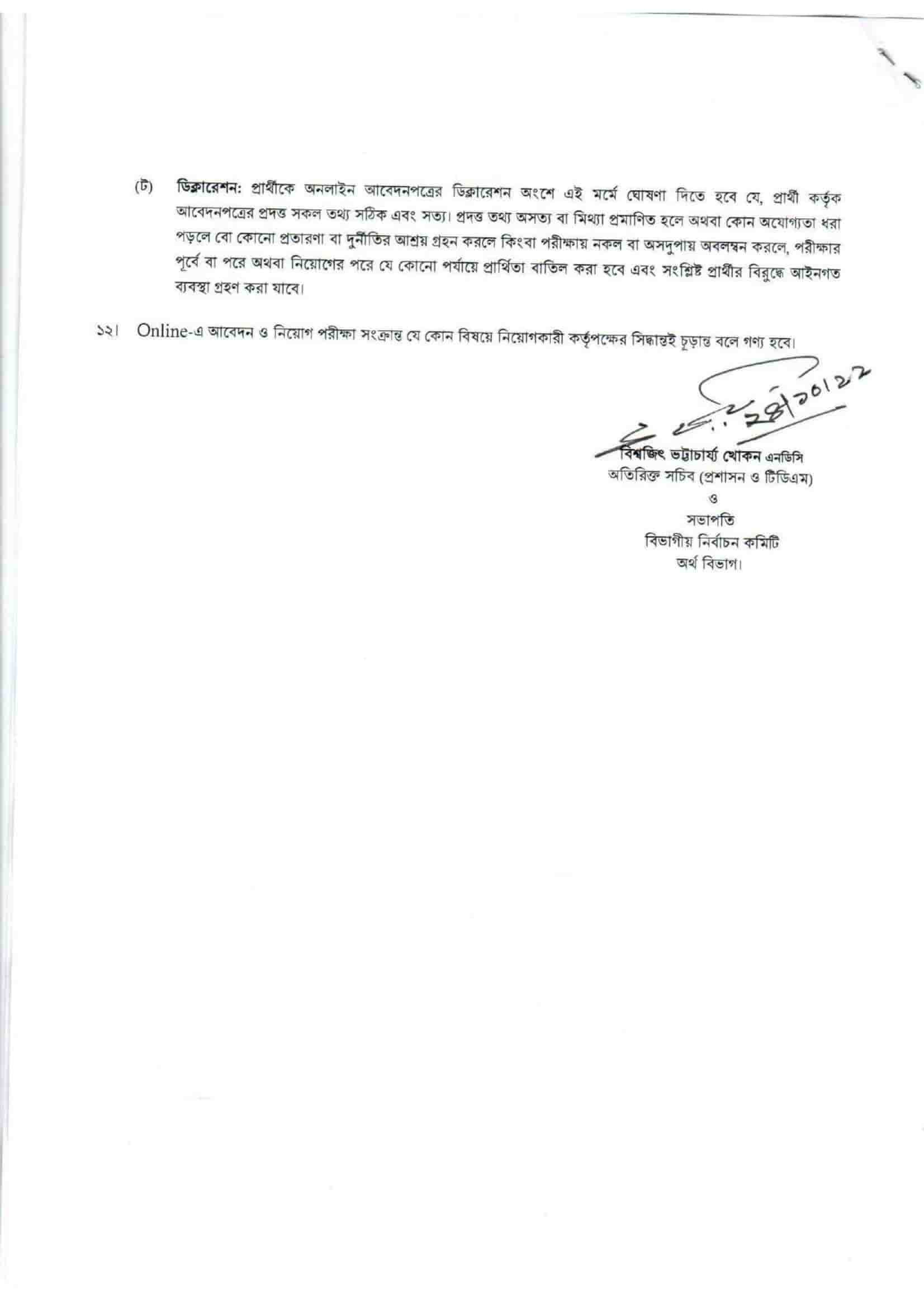 Admit Card
Information regarding examination notice and admission will be given through short message on the candidate's mobile. You can also find out through the official website of the Department of Archaeology www.mof.gov.bd and the teletalk site http://mof.teletalk.com.bd. Follow the daily newspaper, official website and our website to get the right job information regularly. You will find his update here on the admission information.
Job Test
Candidates can also get all the information about the written and oral exams through the official website. Visit inbdjob.com to get regular government job news / advertisements
After the preliminary selection of the applications received, examinations may be held in 2 or 3 stages for appointment to the post. However, the recruitment notice does not mention any information about the examination.
In Bangladesh, examinations are held in various government / semi-government / autonomous institutions in a maximum of 3 stages.
(1) Preliminary (MCQ) examination.
(2) Written examination (for those who have passed the preliminary).
(3) Viva examination (those who pass the written examination).
See the official website (www.mof.gov.bd) for details.
Source: Official Website 24 October 2022.